Spotted by ED92 earlier today and backed up by the official Disneyland Paris website, it would appear that from October 1st 2017, Extra Magic Hours will be dropping from the current 8-10am slot, to a 9am-10am slot.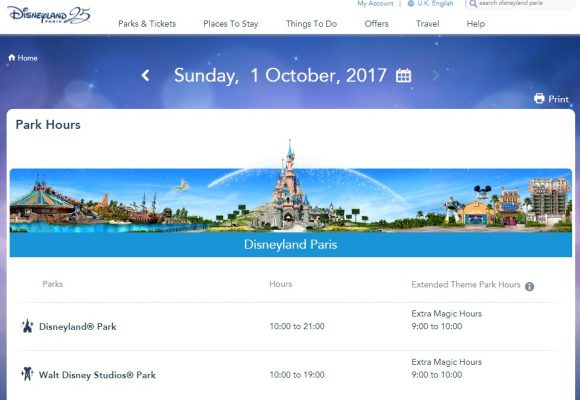 It's worth noting that while there is a reduction in time from 2 hours to just 1 hour for Extra Magic Hours, it is now at both Disneyland Park and Walt Disney Studios, not just the 1 park as it has always generally been. However, as you can't be in 2 places at once that effectively does halve your Extra Magic Hours for trips after September 30th. So that's 1 hour less for every full day that you'll be able to queue for character meets, selected attractions or just less busy ambling around.
With just 1 hour for people to get there Extra Magic Hours activities in it could of course be far busier than we are used to now, but 2 with parks open to split guests, it may not change. That's as long as the offerings are of equal standard in both parks, with just as attractive meet and greet opportunities in Walt Studios as there are in Disneyland Park. And what rides will be open in Walt Disney Studios? I'd hope that Tower of Terror, Crush's Coaster and Ratatouille: The Adventure would be the first ones chosen, given how busy they get every day.
At first glance it won't affect me a great deal personally, as we tend to only make it into the parks by the second hour of Extra Magic Hours anyway. But then getting in will be far more chaotic given people won't have been in an hour before me already, and it won't be long until general admission guests start arriving and queuing too. With the removal of breakfast as part of the on -site package deal, it's yet another bonus of staying on site that has been taken away. We are staying at Hotel Cheyenne this coming December, by which time this system will be fully in place, or revoked it it's an abject failure, so I'll see for myself how it works out.
The calendar on the official Disneyland Paris website actually only goes up to October 1st, so maybe it's only that day that Extra Magic Hours are going to be handled in this way, or maybe they are just trolling us to see how many of these such articles will get written! People seem to be reporting it as an ongoing change starting on October 1st, so maybe there is more information out there. At this moment in time I don't see the benefits. On paper it looks like the same amount of Extra Magic Hours as now, given it's to be spread over 2 parks, but in reality, to me and you and how we will be able to use them, it's a drop of 2 hours to 1. So now I ask all of you – what are your thoughts on this?
Related posts:
The following two tabs change content below.
As the founder of Dedicated to DLP Steve is a self confessed Disneyland Paris fanatic and has an unrivaled passion for the resort, its history and what makes it work. He has a particular love of Pirates of the Caribbean, which he often talks about as the host of the podcast and the weekly YouTube show.
Comments
comments