At present this has not been mentioned, let alone confirmed by Disneyland Paris themselves, and as such I will be treating it as a rumour. However, Disneyland Paris Cast Member run social media sources that are usually pretty spot on have announced that in April the games rooms at Hotels Cheyenne and Santa Fe in Disneyland Paris, will be changing to Starbucks. I've had 24 hours to digest this information and my thoughts remain the same – I hate the idea with every fibre of my being.
When I visit Disneyland Paris the biggest attraction for me is not Pirates of the Caribbean or the parade, but that feeling of escapism, into a world of fun and fantasy. Seeing brand names that I see on every high street in every town the world over takes me out of that bubble and destroys the illusion. Yes we already have a Starbucks in Disney Village and I hate that it replaced the uniquely themed Buffalo Trading Co., but with the addition of The LEGO Store, Vapiano and now 5 Guys it's a losing battle and I have to let it go. Thankfully I spend very little time in Disney Village, due to a mixture of there being very little to do and a huge lack of variety in the food on offer. I do live in hope that one day it will receive a big makeover and receive some much needed theming and life, but it seems more every year to be heading in the direction of the average out of town retail park.
Back onto the subject at hand, and the thought of seeing a huge Starbucks sign outside what is currently the Bank building at Hotel Cheyenne turns my stomach. It's hard enough seeing it as I walk through Disney Village, but to see it in the supremely themed Western town environment of Hotel Cheyenne would be too much. Not only would it completely ruin the aesthetic of the hotel complex, but within minutes of getting up in the morning and leaving my hotel room I'd be reminded of everyday life back home, negating the main reason I visit Disneyland Paris in the first place.
I have done a very crude mock up of the current games room at Hotel Cheyenne and what it may look like with Starbucks branding. This could go any number of ways, but looking at Starbucks in Disney Village, they use the Starbucks colours and a very big recognisable sign. Thanks to Rose Grey Photography on Flickr for the original image of the Bank games building at Hotel Cheyenne.
Now I have no idea what colour the logo will be, or what parts of the building may or may not be added to white and light brown Bank building, but anything like the above mock up will have me rethinking Hotel Cheyenne as my favourite hotel and preferred place to stay in Disneyland Paris. That might seem a bit extreme, but that's how much I like, no love Hotel Cheyenne, and how strongly I feel about introducing brand name franchises into the magic. After experiencing the recently refurbished and quite stunning Texas Rooms, this for me would be a massive step back for Hotel Cheyenne.
The only hope I have is that the Starbucks branding is subtle, and I realise Starbucks and subtle don't generally go together but it's Disneyland California that has given me a glimmer of hope to hold onto. This photo of Market House on Main Street from DLR Prep School shows a building that houses a Starbucks, but the branding on the outside is not so big and in your face as what I have mocked up above.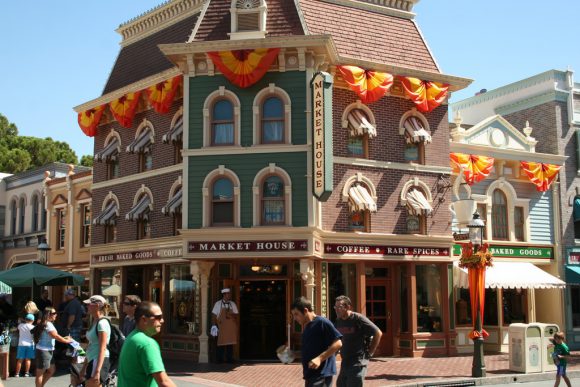 I can still clearly see the Starbucks name either side of the main entrance, and the synonymous green colour that we all associate with the giant coffee chain, but it's not as bad. In fact most of the old theming has been retained both inside and out. Whilst my preferred option would be no Starbucks at all, if it has to be there, and the accountants I'm sure have many facts and figures to back up this development, then please make it more like Market House in Disneyland and less like the standard Starbucks we have in Disney Village. It could be that as Disney Village is now just a collection of everyday brands and fast food restaurants, that having the standard Starbucks branding was a given, and that areas such as Main Street and with any hope Hotel Cheyenne, get more thoughtful brand placement.
I've talked almost exclusively about the Hotel Cheyenne as that's the one closest to my heart, and although less so than with my beloved Cowboy town, Hotel Santa Fe is also themed in such a way that Starbucks will be out of place. In fact Hotel Santa Fe is the perfect location to have a Cars themed coffee and snack joint. Maybe they have plans for a Flo's V8 Cafe in association with Starbucks – time will tell.
Just as having a Disney Park in every town, or even in every country, would diminish their appeal, so does having brands that remind me of the high street in Disneyland Paris. I love the Smores Brownies and decent range of smoothies stocked in Starbucks, but I don't want to see it have a bigger presence in Disneyland Paris, something that unfortunately seems inevitable. Am I alone in thinking like this? Maybe, as Starbucks is hugely popular, but the only voice and opinion I have is my own, and that is the one I must air.
Related posts:
The following two tabs change content below.
As the founder of Dedicated to DLP Steve is a self confessed Disneyland Paris fanatic and has an unrivaled passion for the resort, its history and what makes it work. He has a particular love of Pirates of the Caribbean, which he often talks about as the host of the podcast and the weekly YouTube show.
Comments
comments