Today was the day. The day when 12,000 runners wished for some faith, trust, pixie dust and a good pair of trainers to help them cover 21.1K round Disneyland Paris. With the same set up as the 5K the runners assembled in their starting corrals. You know it's going to be a fun race when you are surrounded by fairies, Princes and Mickey ears as far as the eye can see.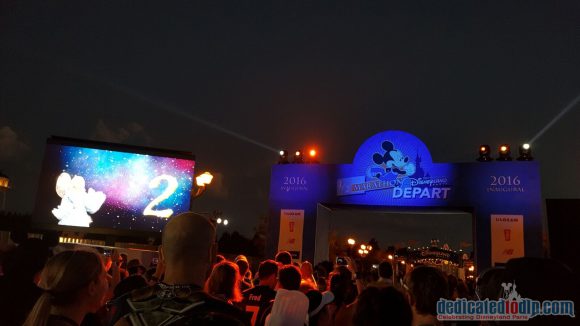 After a slight delay we were off, across the start line and round the side of Walt Disney Studios. Entering the park via a backstage area, the route took us under the audience seating for Moteurs….Action! Stunt Show. Runners got to travel across the full stage and then along the London street of Studio Tram Tour. This was by far the best part of the route for me as when will you ever get the chance to be in these areas otherwise.
Then a sharp turn towards Rock 'N' Roller Coaster to find our first characters, the action men themselves, Captain America and Spider-Man. Up towards Production Court Yard, past the cheeky chipmunks Chip n Dale, round the Front Lot and through Studio 1. Next was Place de Remy where Marie was waiting for us, past Crush's Coaster Cast Members "just keep running" closely followed by Mr and Mrs Incredible near Flying Carpets Over Agrabah.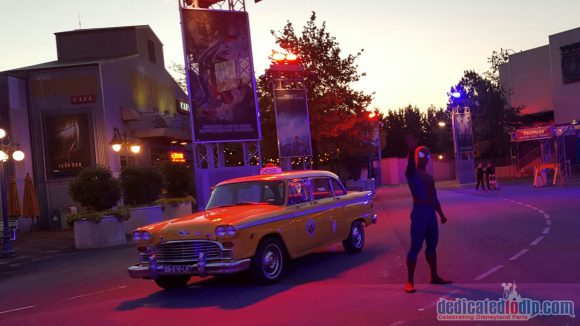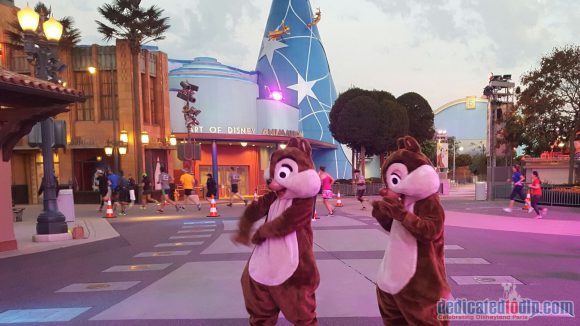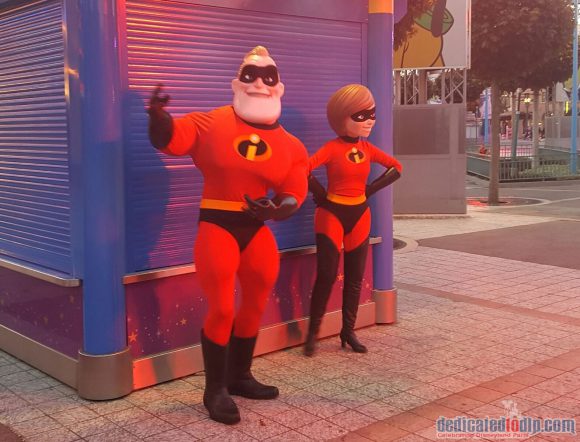 We then exited the Studios and entered Disneyland Park for another run up Main Street. The pavements were lined with supporters including some of the medal winning French Olympians. A sliver medal caught my eye as I ran past.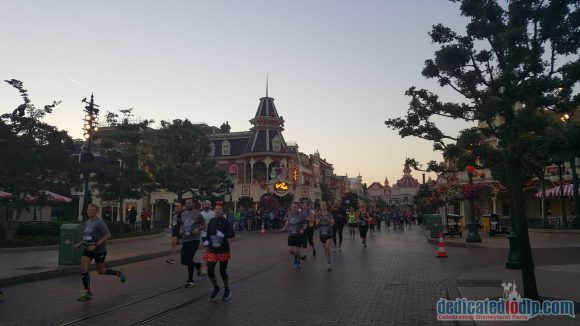 Into Discoveryland where some supporters from the Dark Side stood – Darth Vader and two storm troopers were intimidating runners and in some cases it work!
Next into Fantasyland where I think one of the best character set ups of the route was. Belle, her Prince, Cinderella and Prince Charming were stood in front of the beautiful parade float, making a truly magical backdrop. Alice, March Hare, White Rabbit and the Mad Hatter greeted us outside Alice's Curious Labyrinth and back through the castle we went.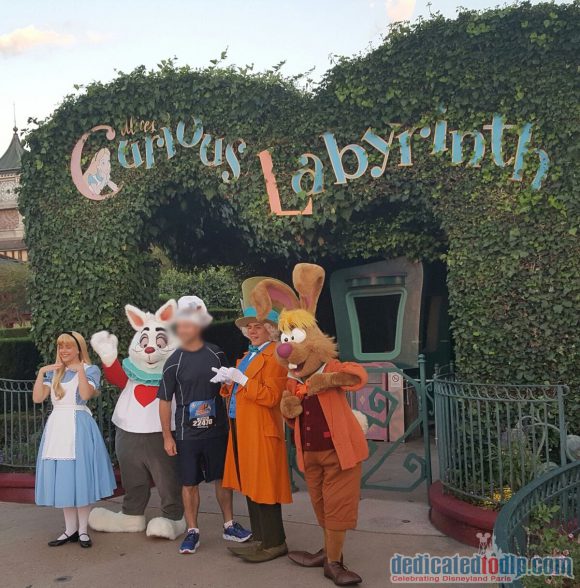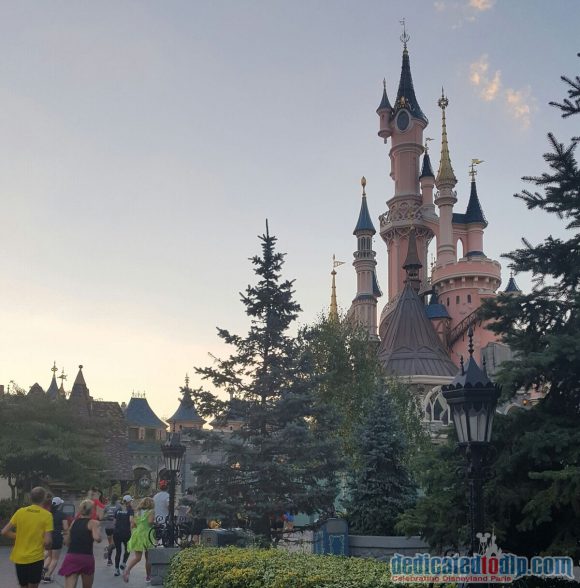 The Sheriff of Nottingham welcomed us into Frontierland. Up into Adventureland stood Aladdin, Abu, and Genie before passing the pirate Cast Members from Pirates of the Caribbean.
Saving the best for last just before leaving Disneyland, Dug, Carl, and Russel from UP waved us off, 5K down and 16.1 to go.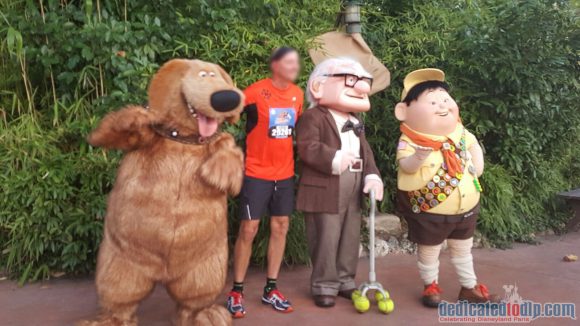 Next stage was the main backstage area the route passed through. It was lined with interesting sights for any Disneyland Paris fan. These included the Main St vehicles, Cafe Hyperion carts, and support from the Disneyland Paris fire brigade.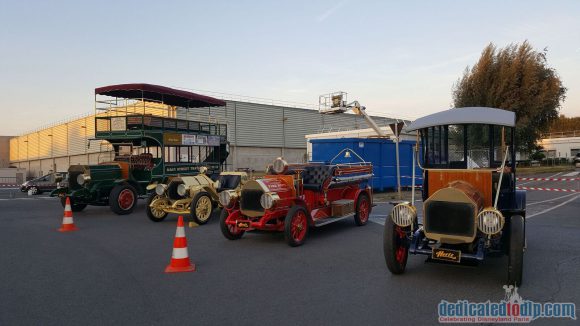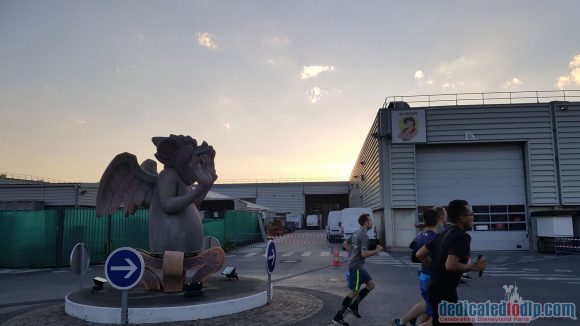 We then left the parks completely to run through the surrounding countryside and villages. Along the route were bands, performers and cheerleaders, but I did miss the magic of the parks and characters to keep me going. It felt like a long stretch before the route took us finally back towards the resort.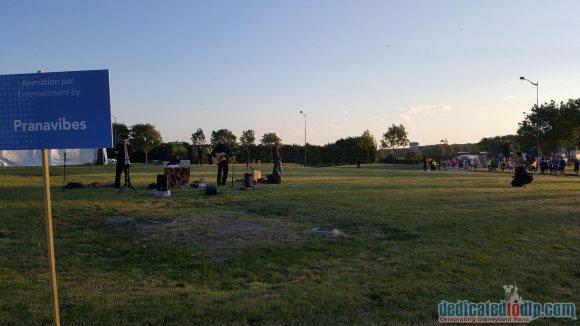 Off the roads and back on to Disney soil we passed through the Santa Fe and Cheyenne Hotels, around Lake Disney and into Disney Village. This was now the home stretch. Back down the side of the Studios to the best distance marker of them all. A 21K banner which was created by a local graffiti artist, who was still adding touches as we passed.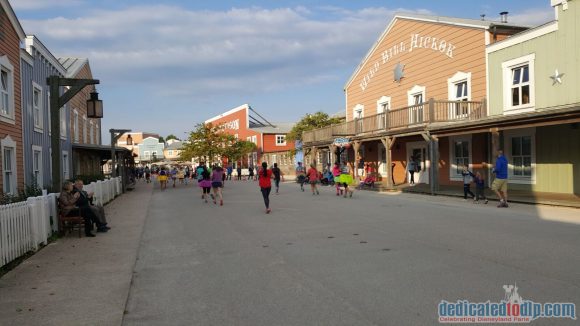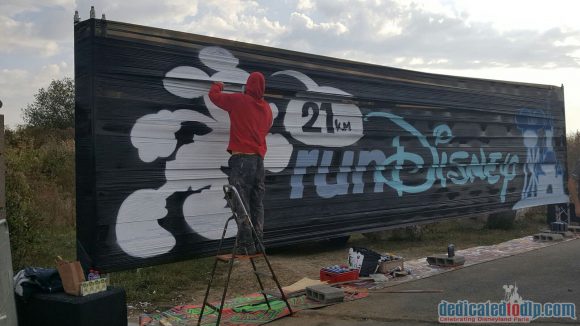 Then the finish line was in sight, something I honestly thought I would never see let along run across, to cheers and high fives from Donald and Daisy. I didn't bother celebrating I just made a beeline for my medal!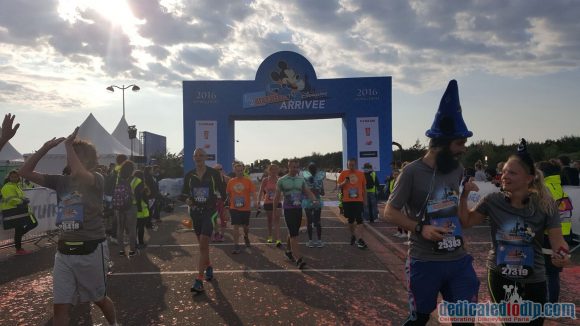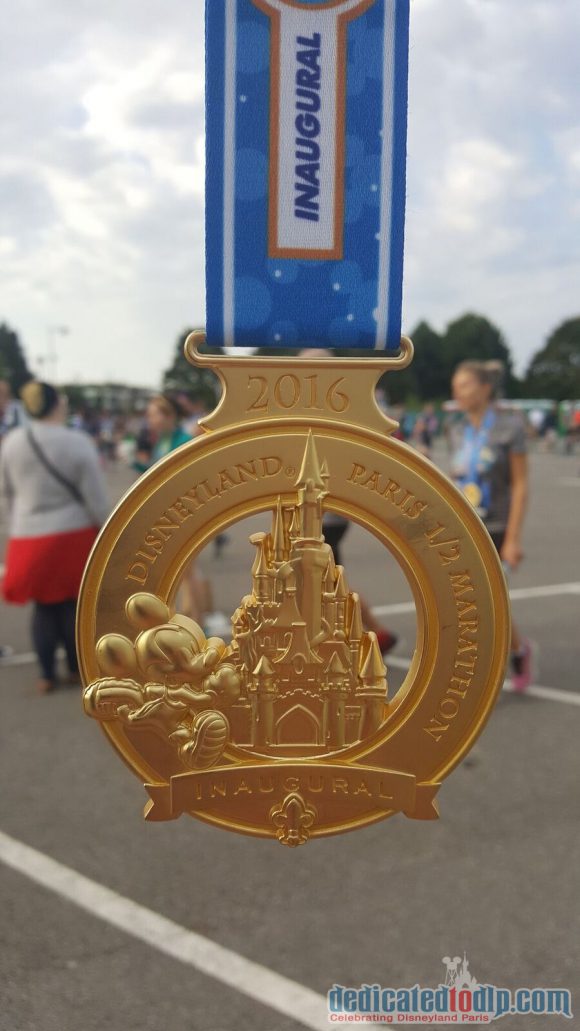 All the hard work, stress and missed sleep was worth it to be able to call this medal mine. Beautifully designed and a heavyweight – even now I can't stop looking at it.
Wow.
That's the only word I can think of to describe this experience. Everything went smoothly, felt professional and was well organised. Disneyland Paris and the runDisney organisers should feel proud. Only thing I would like to see is more Disney Magic at later stages of the course, the first 5k was so enjoyable I wanted more. One of the most heart warming parts of the route was the enthusiasm and support from all the park workers. Each attraction we passed you could guarantee the Cast Members would be lining the route, with loud cheers, banners and flags. Even the usually stern faced security staff clapped and cheered us along.
So to anyone thinking about taking part next time….DO IT. You won't regret a moment. I've met some lovely people and it's an experience I will keep with me forever. You don't have to run, you can walk, skip or dance your way round – I did all 3! All you need to do is have fun, and bring that Disney spirit, it will get you across the finish line.
Related posts:
The following two tabs change content below.
New writer for Dedicated to DLP Jane is a passionate all round Disney fan, who's love for Disneyland Paris grows with each and every visit. When not in her favourite place she spends the majority of her time booking and planning her next trip "home". If they would let her, she would happily live in the castle, waking up to a view of Main St every morning.
Comments
comments