Why do months with trips to Disneyland Paris in go so quickly? I was there just over a week ago and of course March has flown by as fast as lightning, and as such we have details of the Disneyland Paris Pins for April 2016 already, thanks to out fine friends at Dlrp Express.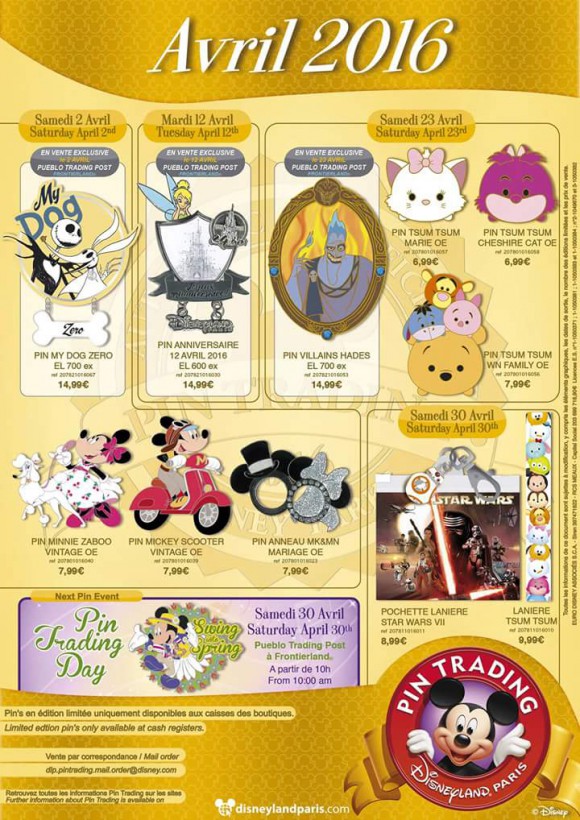 Limited Edition Pins
I Googled for dog celebrations happening in April and couldn't find any, in fact Dog Day is 26th or 31st August, depending on which organisation you adhere to. I was looking for a specific reason as to why Jack and Zero are getting a My Dog release on 2nd April, but I can only imagine it's just random. Still, it has a dangly bit, and regular readers will know I give extra points for that. Strange that this is limited to 700 pieces, when the much more popular, surely, Anniversary pin released on April 12th is limited to just 600.
Love the sketch Castle design with Tink on top, but I can't work out what that is on the top right of the shield – answers on a postcard, or comment. Lovely pin, and sure to have sold out by Midday. The 3rd limited edition pin is released on Saturday 23rd and features Hades, which ties nicely into his appearances in Once Upon A Time. Whether that is by design or coincidence is up to you to decide. Of the the three the Disneyland Paris 24th Anniversary (or should that be 23rd Anniversary of the 1st Anniversary?) pin is the one I'd really like, the other two I'm not fussed about.
Tsum Tsum Pins
While Vinylamtions are disappraing into the background, Tsum Tsums are taking over the world, the Disney world anyway. We've got the game, we've got the plushes, and now have the pins. With Marie, Chesh and Winnie and Friends, they fit very nicely in with the Spring season. Not ones I'd be running to buy, but my son Lucas would love the Chesh one, so let's hope there are some left in August when we visit. At 6,99€ for the singles and €7,99 for the group, I'd hazard a guess these are quite small pins.
Minnie, Mickey and Marriage
The pins are secondary to the awesome bit of alliteration in this section header – everything bows in the presence of alliteration. The Mickey on scooter is pretty cool, especially dressed in his long shorts. Minnie's dress is very pretty, and I always tip my hat to such examples of attention to detail. The Mickey and Minnie Ears marriage pin is something a bit different, and if I had a wedding upcoming I think I'd buy this and have it pinned to my suit. So for anyone who does have impending nuptials – I challenge you!
Star Wars and Tsum Tsum Lanyard, Pocket and Pin Trading
The Star Wars lanyard pocket is a nice design, but surely you want it to be see through so your Annual Pass or ticket can be actually be seen? The BB-8 dangly attachment is a nice addition though. The Tsum Tsum lanyard doesn't go with the Star Wars pocket, but does that really matter? Mix and match the designs – you're in Disneyland Paris after all. Pin Trading is not until the end of the month, the very last day in fact, on April 30th at the Pueblo Trading Post. There couldn't be a more fitting place, and with a 10am start time you can get all your purchasing and trading done, with the rest of the day ahead of you. I'd suggest heading straight to The Forest of Enchantment after you are done with pins.
A modest selection of pins in Disneyland Paris this April, but covering enough interests there should be enough for everyone. The Anniversary, Mickey on bike and Chesh pin for my son would be my choices, what about you?
Related posts:
The following two tabs change content below.
As the founder of Dedicated to DLP Steve is a self confessed Disneyland Paris fanatic and has an unrivaled passion for the resort, its history and what makes it work. He has a particular love of Pirates of the Caribbean, which he often talks about as the host of the podcast and the weekly YouTube show.
Comments
comments