The Background
Reading that title you'll be forgiven for thinking you've taken a wrong turn and ended up on a different website, but let me assure you, this is Steve, this is Dedicated to DLP and I mean every word. Before I get going, let me set the record straight – I don't dislike characters and character meets and never have, I'm just not a fan of queuing, and that's putting it mildly. Not doing thrill rides means I miss most of the long attraction queues in Disneyland Paris, and if there's a substantial queue for Pirates of the Caribbean that's fine, because let's face it, with a queuing area, soundtrack, smell and end game like that, it's worth it.
Buzz Lightyear Laser Blast, Phantom Manor and Star Tours (sniff, read about the last ride here) I'd put in that category too, but most others I'll walk past and find something else is there is a sizable queue. That's always been the way I've done Disneyland Paris and I've never not down something because queues always peak and dip, and it's just a case of catching them at the right time. Character meet and greets I generally walk straight past, thinking that a) the line looks too long, and b) as much as meeting a character is fun, it's not worth waiting that long for.
The Start
So what changed? I went to Disneyland Paris last week with my friends Mark (he of the podcast) and Martin, and it was made quite clear from the start that characters would be a big thing, and plans were made at specific times to see certain ones. I had my own plans, that didn't include characters, but had agreed that I would meet a few, and it was also decided that I would try to hug a character, something I have never done.
First day in and we walk down Main Street, U.S.A to see Scrooge on the corner near Main Street Motors. Within one solitary minute of being in Disneyland Park I'm in a queue, something I may have alluded to a few times while we waited. But the queue isn't that long, the sun is out and I'm on a just arrived at Disneyland Paris high – something each and every one of you can relate to. It's soon my turn, and being me, I go in for the traditional handshake and smile for the photo – why would I do anything else, right?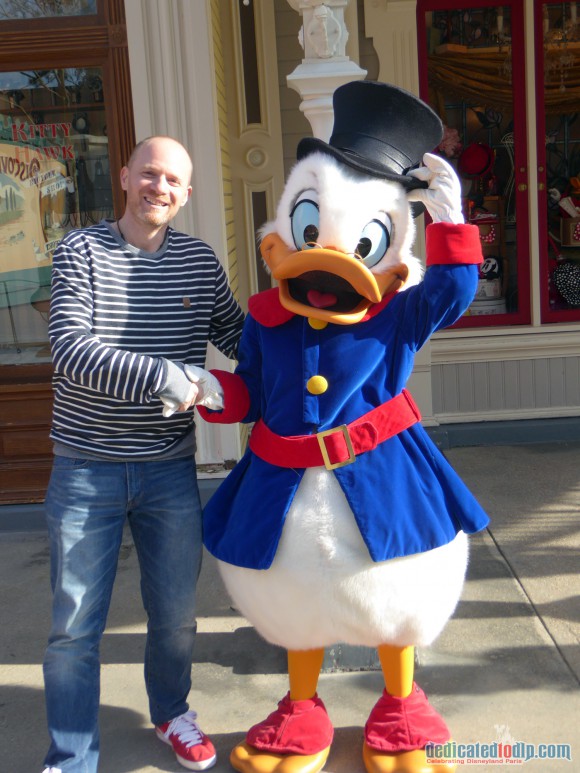 I was quite satisfied at this point – I mean, I'd queued and met and a character all before going on any attractions, let alone rushed down to Adventureland to ride my beloved Pirates of the Caribbean. That wasn't good enough though, apparently, as one of my so called friends shouted out that I should hug him. Already? Surely it was too early to start hugging characters – a stiff handshake and a hello was more than adequate at this point. I'm not sure what happened, but without thinking I just went for it – I leaned in for a hug with Scrooge. You know what? He didn't repel my advances and push me away like some freak, he reciprocated, and we hugged. And I was happy. It wasn't the most relaxed of hugs, but it was a start.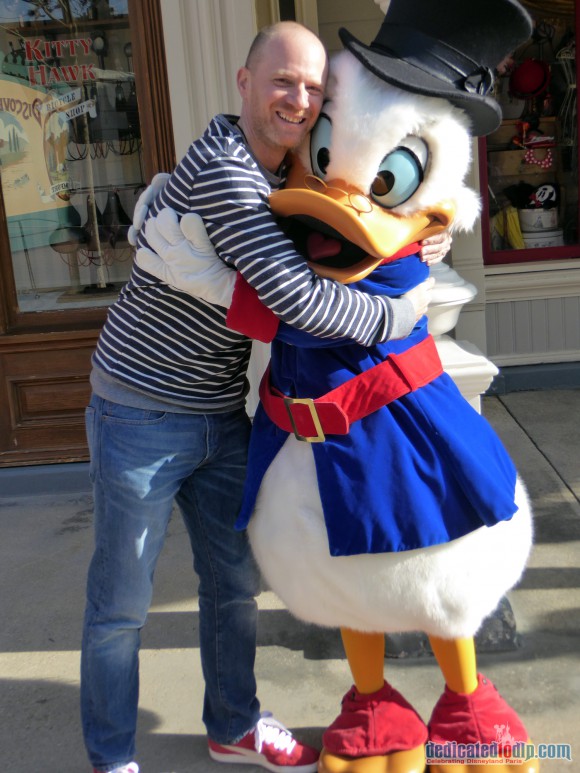 Later on in the day we had a meal in Inventions where I met more characters, and had more hugs, but I'll leave that for when I write my restaurant review. I also met Darth Vader and some Stormtroopers at the Star Tours event on the Wednesday. Thursday though, that's where it all started to change, and in quite spectacular style.
The Change
We got into Disneyland Park somewhere after 8.15am, that's Extra Magic Hours for those who don't know – a privileged 2 hour period reserved for those staying on site or with Annual Passes. Much like Tuesday, we head straight for a character queue, this time Goofy. Now Goofy in his Spring clobber is a fine looking fellow, and is the one character I'd expressed a passing interest in meeting before this trip. We queued for about 30 minutes, which actually flew by thanks to come podcast recording and several games of Heads App. The latter is a fantastic mobile game that I'd recommend to anyone planning to queue for characters and wondering what to do whilst waiting.
Goofy looked awesome close up, and it was a gorgeous day, so I dove straight in. First we went for arms around each others shoulders and then I went for my hug, a proper hug this time, a move I'd become known for as the day went on. Then something strange happened, and while it might not seem like much to you seasoned character hunters, check out the third photo. See it? Yes, that's right – in a moment of lost inhibitions I flicked up my leg and started to have fun.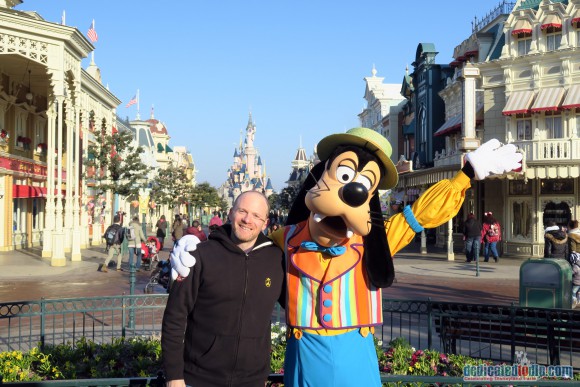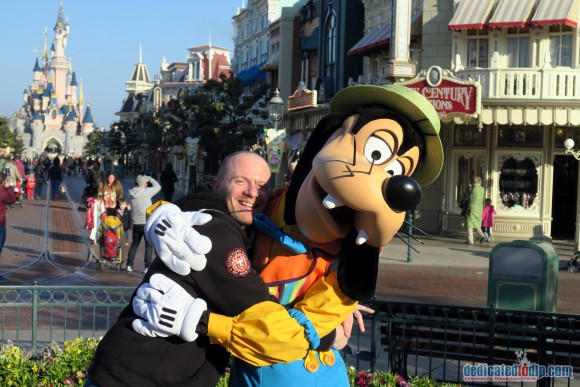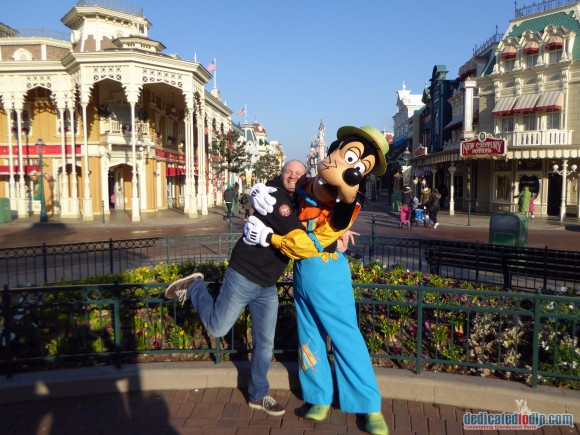 Next we queued for Chip and Dale, and again, the wait flew by with more games of Whats App and general silliness. No hug photo this time – it either didn't happen or it wasn't caught in camera. No matter though, as a rather fortuitous opportunity would present itself later in the day.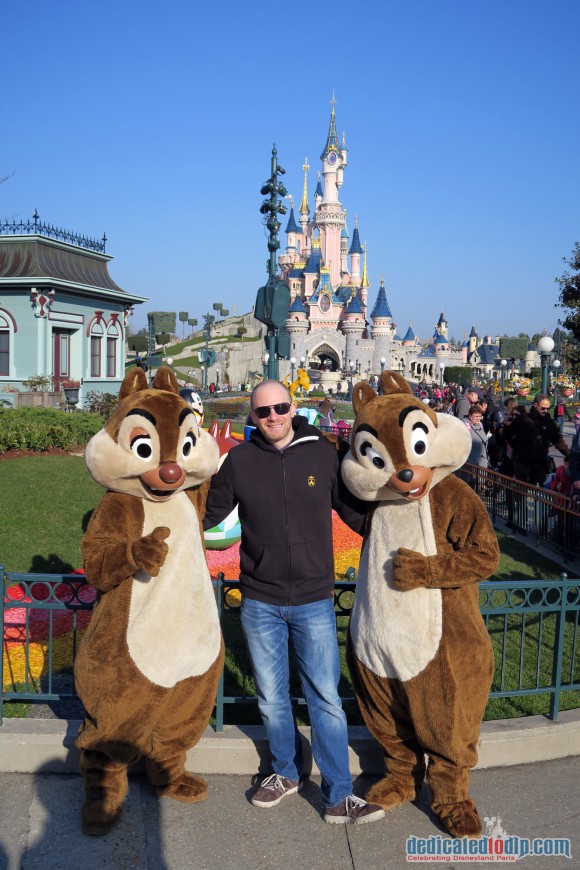 The Run
Rope drop at Frontierland was next on the schedule, and that meant getting to the entrance of Frontierland at 9.30am, so as to be ready to leg it across the land of cowboys at 10am to meet Mickey and Minnie in their St Patrick's Day outfits. That 30 minutes flew by quicker than any other, thanks to a most wonderful Cast Member called Manuel, who kept us all entertained, and no more so than his tirade against smokers and selfie sticks. Someone in Disneyland Paris needs to make a video of this and post it for all future guests to see. Maybe the people will take notice. Full of courage and frivolity, I decided I needed a photo with him too, and silly faced poses ensued. The first one is supposed to be like that – behold my stern face!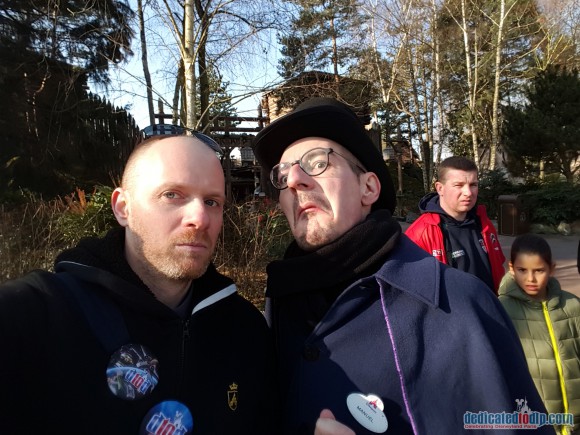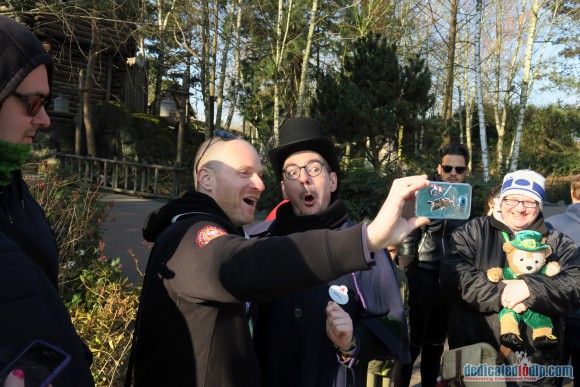 When 10am came around we ran, and I mean really ran – full on sprint, don't look back, lungs about to burst fast! To what end you might ask? We were 3rd in the queue to meet Mickey and Minnie at the specially themed St Patrick's Day Cottonwood Creek meet and greet location, where queues would later reach 2 hours plus! Now while I might be more acclimatised to this queuing business, I had my limits, and that burst of activity was worth every puff and wheeze that followed. I may have embellished that last bit for dramatic effect, but you get the point.
Meeting Mickey and Minnie wasn't just simple posing, as we larked around and of course, had more hugs. I never felt rushed and there was plenty of opportunity for photos. I was getting the hang of this, and when we were done there we encountered the Leprechauns, and the most raucous fun of the day occurred, or so we thought.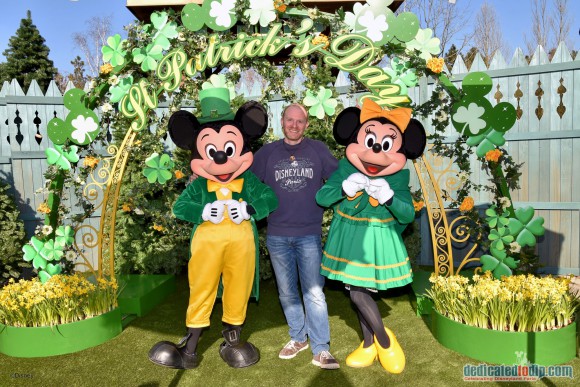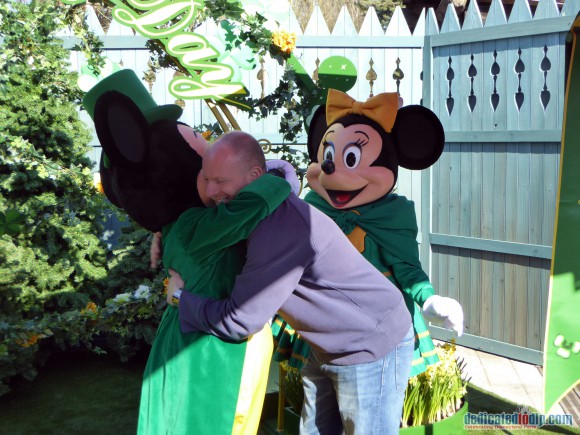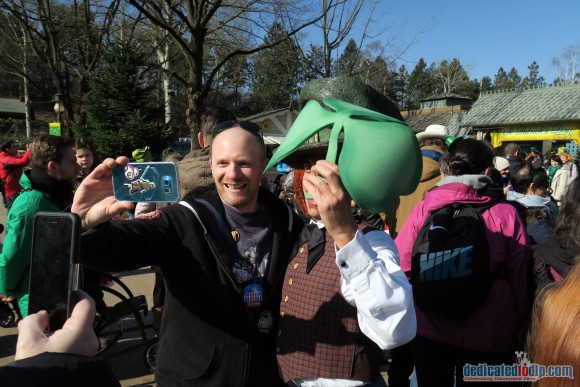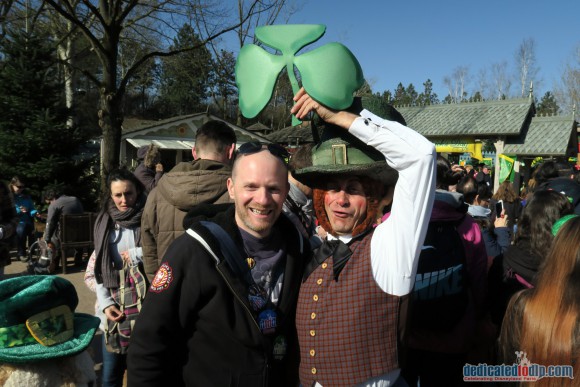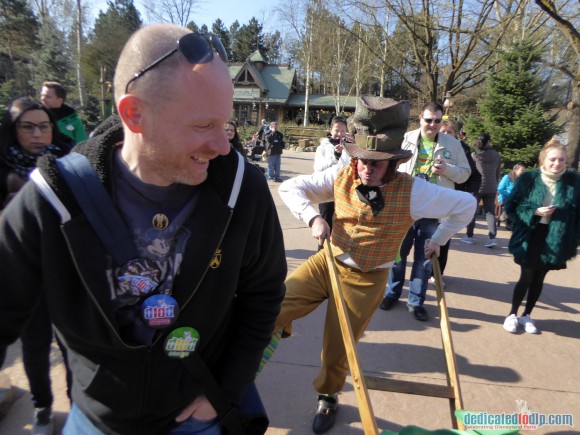 The Conversion
Remember I talked about Chip and Dale earlier? Well it was on walking through Adventureland to get to Frontierland to see The Forest of Enchantment for the 3rd time that I spotted our favourite chipmunks doing another meet and greet session near Kaa and Zazu, with African drum music playing in the background. It was I who insisted we meet them, in spite of having already having met them but a few hours ago. You read that right – Steve, who didn't queue for characters, wanted to queue for the second time in one day to meet character he'd already met. It didn't stop there though, as just before it was out turn Martin asked if I was going to dance with them. Challenge…..accepted! Then this happened.
In case you are in need of some clarification – I danced with Chip and Dale, then I limboed for them and then we all danced! The video is actually just highlights, it went on for quite some time. What on earth had happened to me? Queuing, waiting, meeting, hugging and now dancing – the Steve that walked into Disneyland Paris that day was not the same one who walked out! I must apologise to the people behind us in the queue, as Chip and Dale went off for a break after our session, something that happened more than once during our trip!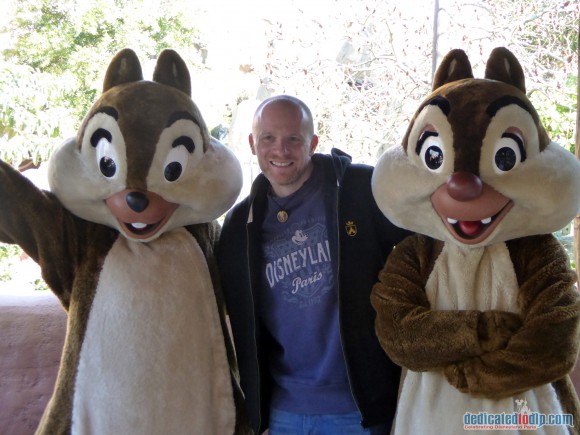 The Surprise Meet
An hour to go on our final day and we got news from a friend that some characters would be doing an impromptu meet in Discoveryland, so off we went. With few people around and with my inhibitions well and truly kicked to the dirt, I had some amazing experiences with this set of 5 characters, which put the icing on the cake of an already fantastic visit. All of these characters were brilliant fun, and long gone were the days where I was satisfied with just a simple posed photo. Donald even had me doing strongman poses and I might have agreed to be in a wrestling team with him! I'mm almost certain Tigger reads Dedicated to DLP, which would be brilliant if true!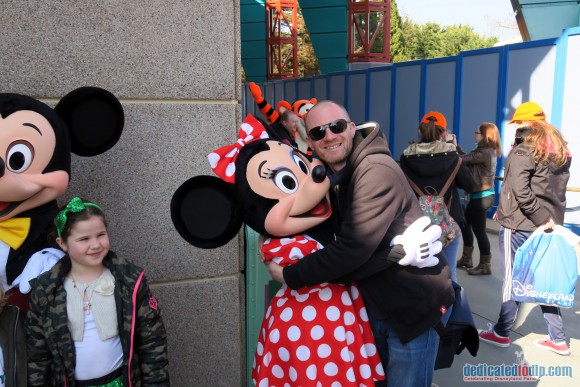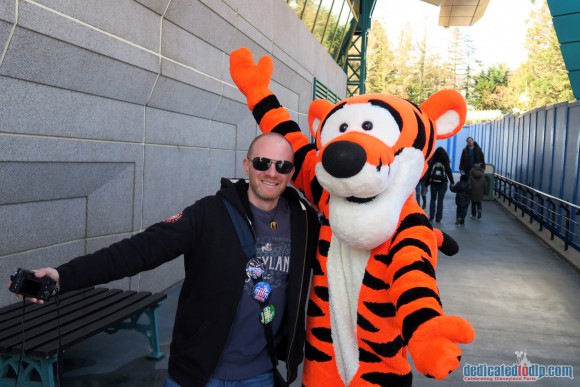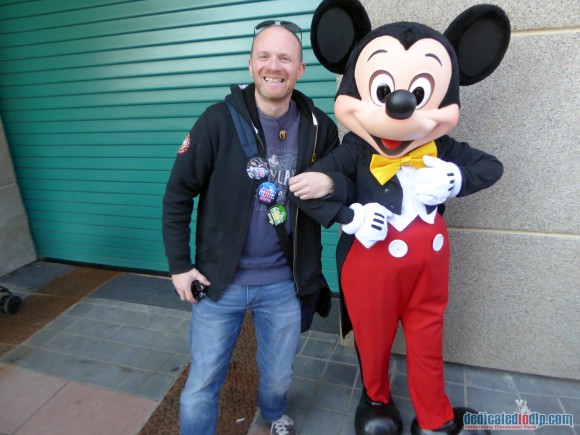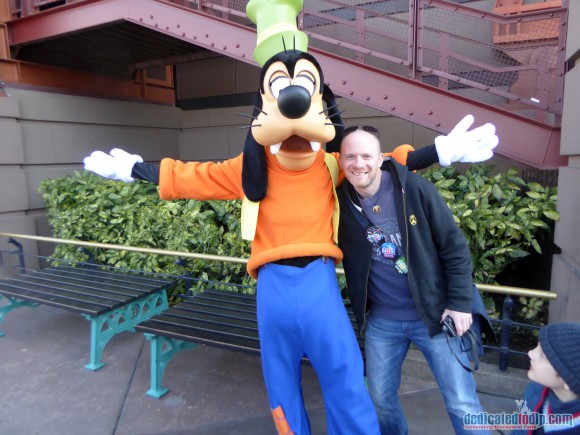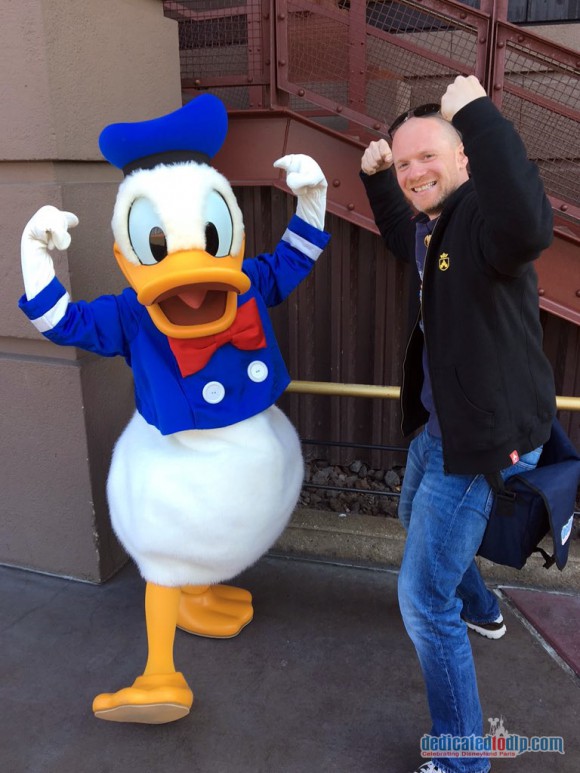 I had so much fun meeting all these characters, and not only did I learn a lesson in keeping occupied in queues, but more importantly I learned that you get what you give when meeting characters. The more fun you have, the more fun they have, the more fun we all have. Meeting characters has now gone way up in my list of priorities when visiting Disneyland Paris, and as today showed, every single one is an entirely different and uniquely special experience. Thank you to everyone involved in turning this cynic into a certified character meet lover. I look forward to returning in August with my family, where me new found appreciation of character meets will be put to great use.
Related posts:
The following two tabs change content below.
As the founder of Dedicated to DLP Steve is a self confessed Disneyland Paris fanatic and has an unrivaled passion for the resort, its history and what makes it work. He has a particular love of Pirates of the Caribbean, which he often talks about as the host of the podcast and the weekly YouTube show.
Comments
comments