Cast your mind back to September 18th when news broke of what can for Christmas 2015 in Disneyland Paris, and discovered the new name for the Christmas Tree Lighting Ceremony, that being Mickey's Magical Christmas Lights. We also learned there that characters would be involved, but now, thanks to those wonderful people at DLRP Express and a photo of a page from the Annual Passport magazine Envie de +, we can now see that a float will be present for the ceremony too.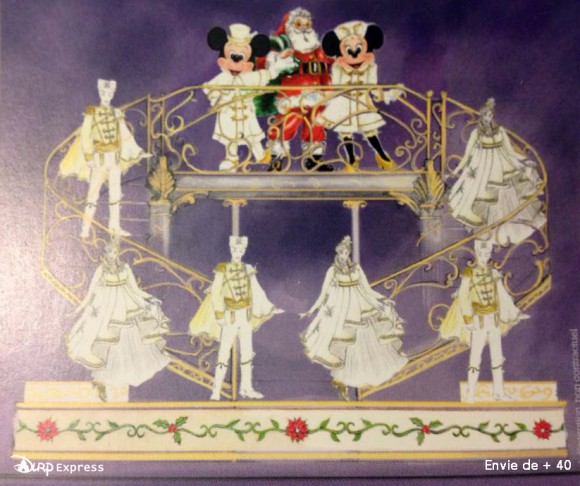 The first thing that struck me was that Santa is old and with a long beard. The second thing was that he must own the best beard comb. So what, you might ask, doesn't Santa always look like that? Last week there was a presentation to Cast Members in Disneyland Paris about the 2015 Halloween and Christmas seasons, and one thing that was mentioned was that Santa would be younger and with a shorter beard. For what reason I don't know – is hipster Santa the look we really want for everyone's favourite present giver? Either this concept art came before that decision to change old St Nick, or they have very sensibly changed their minds on giving Santa the Benjamin Button treatment.
On the subject of changing the tree lighting ceremony to once again include characters, well you can read my thoughts about that here. However, that is one mighty fine looking float, and far more ornate and classy than I would expect. If the end result is anything like this then I may have to move myself from half way down Main Street, U.S.A. and into Town Square to take a look. I'm still not thrilled that the focus will be away from the tree, but if it has to be, then having a float like that is definitely a move in the right direction.
Related posts:
The following two tabs change content below.
As the founder of Dedicated to DLP Steve is a self confessed Disneyland Paris fanatic and has an unrivaled passion for the resort, its history and what makes it work. He has a particular love of Pirates of the Caribbean, which he often talks about as the host of the podcast and the weekly YouTube show.
Comments
comments