A recent interview with Disneyland Paris Show Director Christophe Leclercq conducted by Kris Van de Sande over at Endor Express has given some credence to a long running rumour and some insight into something I hadn't even heard rumours of.
Star Wars Land in Disneyland Paris
This is a rumour that has been floating around the internet for some years now, even before the D23 revelations of a Star Wars Land in one of the American Parks came about. When it became clear that Star Tours II was happening, and then officially announced by Disneyland Paris themselves, along with the Jedi Training Academy it seemed like we were one step closer to a land, or mini land within Discoveryland as it would be. When asked by Kris in the aforementioned interview about more Star Wars in Disneyland Paris, Christophe answered with the following:
Yes! We want to build around Star Tours and the Jedi Training Academy a kind of Star Wars Area.
To a huge Star Wars fan such as myself, that's music to my ears, but just what is or could be coming? We've heard many rumours over the years, from the Buzz Lightyear Pizza Planet restaurant changing to a Mos Eisley Cantina style eatery, to the Star Traders store changing to a Star Wars character meet and greet location. This year Captain EO closed for what appears to be the last time, but that show has more lives than a very lucky cat, so who really knows? In its place we have extended film previews, currently Ant Man I believe, unless that has been replaced with something else now it's been on worldwide release for a few weeks now.
What is being shown is irrelevant, the fact is we have what I believe to be a temporary place holder in the Discoveryland theatre until something of a Star Wars nature replaces it, and maybe that will be a 4D film experience carrying on the tradition of Captain EO and Honey I Shrunk The Audience. But would that be too much Star Wars on the screen, given that that is basically what Star Tours is? So what then – I mean, Disneyland Paris are nororious for re-imaginging existing attractions and sets, so I don't for one minute believe they'll start from scratch with that building. It might not even be one of the Star Wars attractions they have planned, but given its location it would be very out of place to be anything but something from Star Wars. Maybe a Star Wars stage show? But is that too much like the Jedi Training Academy? No, I don't think so, because the Jedi Training Academy is only really going to be for spectators if you have kids on stage, or happen to be there eating a Jedi Burger.
The Star Wars universe is huge, arguably the biggest in film and television worldwide, so the possibilities are endless. But isn't speculating and trying to second guess Disneyland Paris part of the fun of being a fan? Of course it is, and we'll keep on doing it. One thing I do wonder is whether the new Star Wars Land will become its own land, and the 6th in Disneyland Park, or will it still be a sub-land of Discoveryland? I think the latter, because without all those attractions, Discoveryland will be a bit small with just Space Mountain, Nautilus, Autopia, Orbitron and the out of place Buzz Lightyear Laser Blast.
I find all this very exciting, but then I've loved Star Wars for 35 years. I wonder if everyone shares my excitement, or are there people that think Star Wars is very much not Disney and doesn't belong in the Parks, especially in an increased capacity?
A New Show Coming to Disneyland Paris
This next quote from Christophe, also from the interview over at Endor Express, is possibly even more exciting, even to this big Star Wars fan.
I'm right now preparing a brand new show for the Chaparral Theater which will be a new kind of experience as well.
If you have read my musings before you'll know I'm a huge fan of the Tarzan Encounter which ran in the Chaparral Theatre for over a decade, and more recently the Frozen Sing-along Show. So to say that theatre has a reputation for putting on great shows, especially when you throw in the old Mickey's Winter Wonderland show and the great reports of shows that ran there pre Tarzan. The thought of a new show appearing in my favourite Disneyland Paris theatre (actually, my love for CineMagique is comparable, but let's not get into that now) is mouth watering to say the least, but as I mentioned before. let the speculation begin…
Let's assume the work on the new show started in July – the Frozen Sing-along started in late May so I'm giving them a month to get through teething problems before looking at a new show. By the sound of things this new show is going to be something quite special, from a performance and technological standpoint, maybe. With that in mind I'm thinking at least a year to prepare, more likely 18 months. Now given that the Frozen Sing-along only debuted a few months ago, and disappears mid September, to come back for the Christmas season, are they likley to be saying goodbye to that in the foreseeable future? No is my answer, in fact I'm putting the timeline of the new show as an April 12th 2017 start date, which is of course that 25th Anniversary of Disneyland Park, and can be one of the show-pieces (pun intended) of that celebration.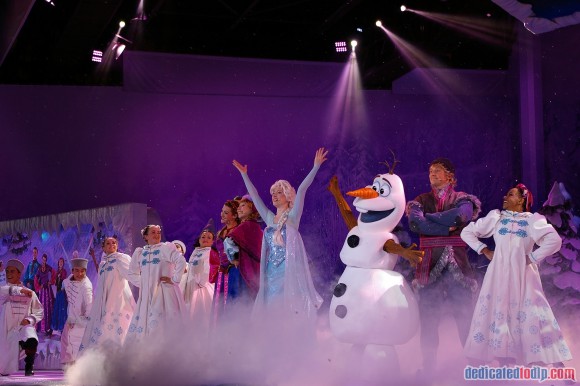 Now the timing sorted, what about the theme of the show? Just under two years is a very short run for a show at the Chaparral Theatre, and given how popular Frozen still is, it seems almost improbable that they'll ditch that any time soon. So could the new show still be Frozen themed, but just a different show to the one we have now – a new and improved Frozen show. Frozen 2 isn't rumoured to be making it to the big screen any time before 2018, at the earliest, so it probably won't feature anything from that, but like the Sing-along, could be a new story that can be adapted to take in new storylines and characters from Frozen 2 when it does finally appear.
The Tarzan Encounter launched in the Chaparral Theatre just a year after it was released in cinemas, and Pocahontas le Spectacle before that also came to Frontierland just a year after being on in cinemas. So what do we have coming up in 2016 that would fit the theme of Frontierland and lend itself to a stage show? There's Moana, which comes out late next year and from the little I've seen could tick all the boxes themetaically, but doesn't seem like the kind of film they would gamble a show on. We also have to consider that if they are developing it now then maybe it's not a new film or set of characters at all, and it's an existing one, which takes me once again back to Frozen. But if not Frozen, then what?
The news is exciting, the speculation could and probably will keep a lot of us thinking for weeks and months until we finally see some evidence of what is going on. While the big refurbishments will dominate the next 2 years, it's very encouraging to see that Disneyland Paris is investing in new things at the same time, and combined we are on the verge of a Disneyland Paris that is once more going to make huge waves for old and new fans alike.
Related posts:
The following two tabs change content below.
As the founder of Dedicated to DLP Steve is a self confessed Disneyland Paris fanatic and has an unrivaled passion for the resort, its history and what makes it work. He has a particular love of Pirates of the Caribbean, which he often talks about as the host of the podcast and the weekly YouTube show.
Comments
comments