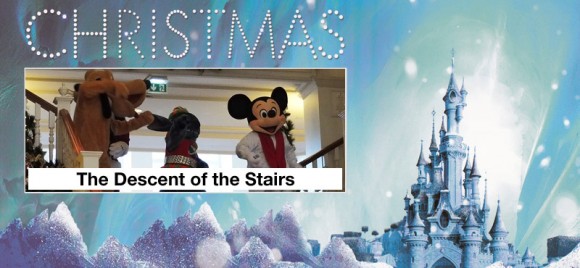 Not being one for characters I've never paid much attention to the mini show that takes place in the Disneyland Hotel on Thursdays – Sundays, a fact I didn't know until yesterday when @GaetaneDW mentioned it on Twitter. On my recent Christmas trip to Disneyland Paris it was only because I was meeting up with Laura from ThatDisneyLover to say hi that I experienced The Descent of the Stairs (officially called magical Moment at Disneyland Hotel – thanks Emma), as being a character hunting expert, that is where she was heading.
I wasn't sure what to expect, other than some characters and stairs, and the probability that those characters would be going down those stairs. I think I've missed my calling as a detective, such are my amazing powers of deduction. I actually ended up seeing The Decent of the Stairs on both the Saturday and the Sunday, and the number of characters on each day varied significantly. On the Saturday we saw Mickey, Minnie, Donald, Daisy, Stitch, Goofy and Pluto. However, on the Sunday we were treated to Clarice, Daisy, Chip, Dale, Goofy, Pluto, Stitch, Mickey, Minnie and two mice from Cinderella. It would have been two of Perla, Suzy and Blossom but I don't know who is who – maybe someone can help identify them? Unfortunately the only picture I have with the mice is low quality, but good enough for the Cinderella experts out there, I'm sure.
The characters were dressed in their Christmas outfits and would come out to music from both sides of the second floor balcony, dance, wiggle and wave, before meeting in the middle and coming down the stairs, slowly. Some, like Stitch, would appear on their own and thus take centre stage as they walked down to the stairs to be received by the adoring masses. The hotel lobby area was filled with people, both residents of the hotel and invaders such as ourselves, and after sashaying down the stairs, the characters spent a good while meeting guests for photos and autographs.
It was a fun way to see a whole bunch of characters at one time , and though there were quite a few people, it seemed a lot calmer than the random meets in the parks which can often degenerate into scrums and a fight for survival. The Descent of the Stairs starts at 4pm, or soon thereafter, but I'd advise getting there 10-15 minutes earlier, at least, if you want to be front and centre.
Is it something I'd do again? I think I would. Definitively with my son Lucas and maybe even when I'm next there on my own. It would be interesting to see which characters would appear and there's plenty of room to stand back and observe, away from the throng and excitement and activity.
Related posts:
The following two tabs change content below.
As the founder of Dedicated to DLP Steve is a self confessed Disneyland Paris fanatic and has an unrivaled passion for the resort, its history and what makes it work. He has a particular love of Pirates of the Caribbean, which he often talks about as the host of the podcast and the weekly YouTube show.
Comments
comments