I friend of mine Nikki is absolutely brilliant at Cross Stitch, and every year she sends out Christmas decorations with her Christmas cards. They are always Disney themed and Lucas loves them and proudly puts them on our Christmas tree. Some time ago Nikki posted a photo of a huge banner she'd made with lots of attractions from Disneyland Paris all created in Cross Stitch. Nikki kindly agreed to send me some more photos and write a little bit about her creation, and here it is…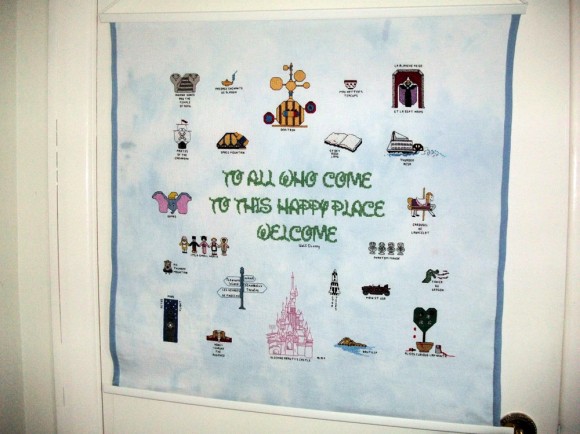 It took me just over a year to stitch but was a lot longer in the designing mainly because I kept changing my mind about what I wanted to include. The majority of the motifs came about from squinting at dozens of photos from various sources to try and decide what would work best in cross stitch. Some were a real struggle to get right, I think Orbitron was the biggest nuisance and Dumbo hard to get a handle on. I think that's my least favourite motif. The castle blackwork design was something I had done some time before and decided to include it on a whim.

Originally I decided to have a different motif for It's A Small World – hands clasped across a globe – but then I hit on the idea of small dolls like the ones in the ride itself. Unfortunately that one rather outgrew itself. I came up with so many little dolls it was really hard to pick the ones I actually wanted to use and ended up stitching the others into a square design with the songwords as a border.

I couldn't resist the singing busts for Phantom Manor even though I've never been on the ride myself. I have always gone to DLRP on my own and I'm a bit chicken about riding a ghost train by myself. I had found a small motif for a bust of Shakespeare of all things and managed to adapt it to the four different busts.

I'm proudest of Nautilus mainly because it was so hard to get it anywhere near and I think it was the most successful.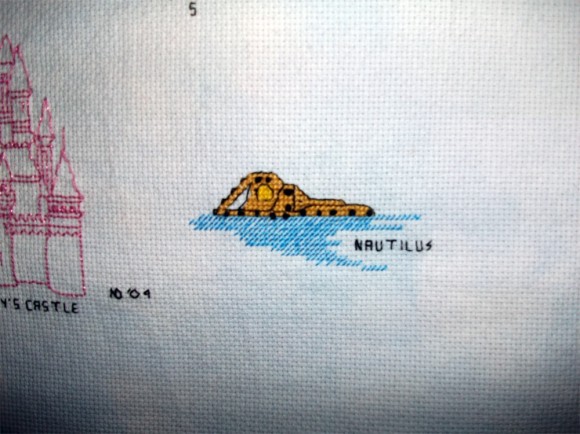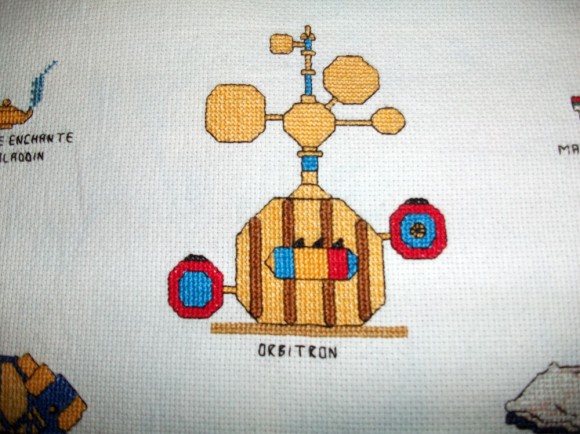 I'm sure you'll agree that this absolutely wonderful and the effort that Nikki has put into it is immense. Maybe she can write about Disneyland Paris crafting, similar to the one that exists for Star Wars; Star Wars: The Craft Book
. Has anyone else made anything Disneyland Paris themed? We'd all love you to share it with us.
Related posts:
The following two tabs change content below.
As the founder of Dedicated to DLP Steve is a self confessed Disneyland Paris fanatic and has an unrivaled passion for the resort, its history and what makes it work. He has a particular love of Pirates of the Caribbean, which he often talks about as the host of the podcast and the weekly YouTube show.
Comments
comments