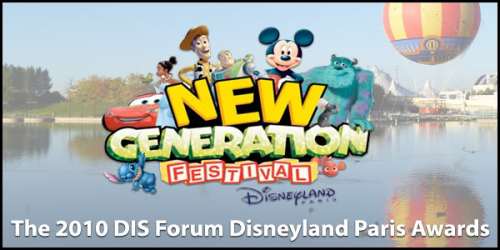 WINNER
Stitch (29.2%)
2nd= Mickey Mouse (16.7%)
2nd= Chip & Dale (16.7%)
4th Minnie Mouse (8.3%)
5th= Captain Hook (4.2%)
5th= Jack Skellington (4.2%)
5th= Daisy Duck (4.2%)
5th= Mr & Mrs Incredible (4.2%)
5th= Pluto (4.2%)
5th= Angel (4.2%)
5th= Tigger (4.2%)
I've never been one for going out of my way to meet characters but always enjoy chance meetings that happen as I walk through the park. The photo above was taken in September 2010 and as gentle as Stitch was, my son Lucas still wasn't keen. I guess to a 2 year old a big blue furry creature is a bit daunting.
I'll be interested to see how Duffy rates in polls in years to come. While he doesn't appear to be the most animated of characters, the cuteness factor may see him getting lots of votes.
Related posts:
The following two tabs change content below.
As the founder of Dedicated to DLP Steve is a self confessed Disneyland Paris fanatic and has an unrivaled passion for the resort, its history and what makes it work. He has a particular love of Pirates of the Caribbean, which he often talks about as the host of the podcast and the weekly YouTube show.
Comments
comments